Backwoods Bound Bullet Volume 20 - Issue 10
  Welcome to the October 2019 issue of The Bullet. Wow! Look at all of the hunting seasons that open this month, duck, early goose season, archery deer, turkey and crow just to mention a few. And let's not forget about the seasons that have been going on for a month or more. Squirrel, dove, and a whole host of other game birds like rail, snipe, and woodcock are still in season. And out west it's elk, deer, and antelope season. That's a lot of hunting opportunities and it proves that October is fun month to be outdoors. But it is only a prelude of things to come. November hails in the start of many other seasons. Rabbit, pheasant and of course firearm deer season all take off in a mere thirty days or so. So stock up on shells and bullets and enjoy this great time of the year!

Enough said. Let's get to it. Enjoy the two hundred and twenty eighth issue of The Bullet. Until next month, J. E. Burns, Editor-in-chief.



~~~~~~~~~~~~~~~~~~~~~~
In this issue:

~ Backwoods Trivia
~ Recipe: Venison Pot Pie
~ Article: Oak Pruning Fast Approaching
~ Recipe: Baked Quail in Gravy
~ Article: The Conversation
~ What's New
~ Backwoods Health: Watch That Blood
~ Candid CamShots
~ Recipe: Pressure Cooker Squirrel and Gravy



~~~~~~~~~~~~~~~~~~~~
BACKWOODS TRIVIA: Here's this month's question from Sherry Glenn. Do you know the answer?

What was the first full-length animated movie?

Find the answer at the end of this newsletter. Send your trivia questions to mail@backwoodsbound.com.



~~~~~~~~~~~~~~~~~~~~
RECIPE: VENISON POT PIE (with biscuit topping)

~ 1/2 lb lean ground venison
~ 1 - 12 oz. jar fat free beef gravy
~ 2 cups frozen mixed vegetables
~ bold red wine to rinse gravy jar
~ 1/2 - 1 cup beef broth, made from bouillon is fine
~ 1 – 10 count can of biscuits

* Pre-heat oven to 400 degrees.

* Brown venison in 8" - 10" cast iron skillet. Do not drain

* While the meat is cooking, simmer the vegetables substituting beef broth for water for 6 minutes.

* When meat is browned, stir in the gravy. Rinse the jar with a little of the wine and stir that in also.

* Stir the vegetables into the meat/gravy mixture.

* Simmer until bubbling,

* Top with the biscuits and put in the oven.

* Bake for 10 – 15 minutes or until well browned.

* Remove from oven and let sit for 10 minutes.

* Serve and enjoy.

Another great recipe from our friend Lloyd Barnhart from West Sand Lake, New York. For more venison recipes to use this fall, visit our site at www.backwoodsbound.com/zdeer.html.

Send in your favorite recipe to mail@backwoodsbound.com and we'll post it on the site or use it in an upcoming issue of The Bullet.



~~~~~~~~~~~~~~~~~~
** KAREN'S KREATIONS **

Get 30% OFF All Thanksgiving themed orders now until the end of the month!

Every Thanksgiving themed bookmark, zipper pull, sports bottle charm, bag tag, ear ring, ornament or wine charm is 30% Off in October! And remember that we'll personalize them for free!

Items made from your personal picture are only $1.00 more.

And get ready for the upcoming holiday season by taking 25% OFF everything else we sell!

Also now is the time to order your Christmas ornaments! Custom ornaments from your picture are on sale for only $6.75 each. Save over $2.00 on each one!

Hurry! These savings end October 31, 2019 so order now!

Visit us at www.karensglabels.com or e-mail us at Karen@karensglabels.com or call 618-257-1365. Be sure to sign up for our newsletter to get news about our monthly specials and new items!

"Because no wine glass should ever be naked!"



~~~~~~~~~~~~~~~~~~~
ARTICLE: OAK PRUNING FAST APPROACHING
&nbsp Don't let the recent unseasonably warm weather spell confuse you, the time to start pruning your oak trees is fast approaching.
&nbsp DNR forestry experts say that due to the warm weather conditions, mid-October will be the best time to prune your oak trees. They warn to not prune oak trees between late March and early October to best prevent the spread of oak wilt.
&nbspOak wilt has been present in Iowa for many years and is caused by a fungus. The trees in Iowa most commonly impacted by this disease are species such as red, black, and pin oak, but it can also infect white and bur oak. If black, pin, or red oak are infected by the fungus that causes this disease they will likely die within the same summer they are infected. If infected, white oak and bur oak can often take a number of years before they succumb to this disease.
&nbsp A healthy tree can be infected by the fungus that causes this disease two different ways. The first is through open wounds during the growing season. The fungus is carried from a diseased tree to a healthy tree with an open wound by a small beetle.
&nbsp The second form of infection is through root grafts between oak trees of the same species. For example, if a red oak is infected and there is another red oak within 50 to 100 feet there is a good chance that the roots of these trees are grafted and the fungus can move from the diseased tree to the healthy tree.
&nbsp Symptoms to look for on infected trees usually include leaves turning a bronzed brown along the outer margins of the leaves. These leaves can often still have some green on them as they fall from the tree. The defoliation tends to start at the top of the tree.
&nbsp The best way to prevent the spread of oak wilt is to prevent any wounding to oak trees during the growing season. If a tree is wounded from storm damage or pruning is required during the growing season, treat the wounds immediately with a wound dressing such as acrylic paint. Do not purchase pruning paints or sealants as those products slow the trees ability to seal over the wound.
&nbsp More information on oak wilt prevention and control can be found by visiting: www.fs.usda.gov/naspf/sites/default/files/publications/identify_prevent_and_control_oak_wilt_print.pdf
&nbsp Make sure to visit https://www.iowadnr.gov/ for more information about the great outdoor adventures in Iowa.
~~~~~~~~~~~~~~~~~~~~~
FUN FACT:&nbsp The first video tape recorder was invented in 1951 to save copies of TV shows. It was a reel-to-reel machine and not the fancy cartridges we all know.

Send your Fun Facts to mail@backwoodsbound.com. For more Fun Facts visit www.backwoodsbound.com/funfacts.html.



~~~~~~~~~~~~~~~~~~~~~~
RECOMMEND AND VOTE FOR THE BULLET

Tell a friend about The Bullet. Just go to: www.ezinefinder.com/rec.html?ez=backwo and follow the instructions. It's free and easy!

To vote for The Bullet follow this link: www.ezinefinder.com/backwo-vote.html.html.

Thanks for your help.
 


~~~~~~~~~~~~~~~~~~~~~~
HUNTIN' TIP:  John Sons says, "Try this out to help cover your scent while deer hunting. Cut an apple in half and rub it on your boots prior to entry into the woods." Thanks John.

Send your tips to: mail@backwoodsbound.com and we'll post them on the site or use them in a future issue of The Bullet.



~~~~~~~~~~~~~~~~~~~~~~
** AFTER THE SHOT TROPHY PLAQUES **

Our handcrafted plaques are made from solid oak not plywood or particle board giving your trophy a solid base to anchor to. Each plaque comes stained with a wall hanger installed. Clear-coating is an available option.

We specialize in unique designs! We've done everything from arrowheads to walleyes to shields to light bulbs, hanging and stand up designs! Just tell us what you have in mind and we'll make it happen!

No matter what type of trophy you want to display, we have a plaque or trophy to fill the need. Contact us at sales@backwoodsbound.com with your ideas.

Don't settle for an ordinary looking plaque! Go one better and order your AFTER THE SHOT Trophy Plaque today. Prices start at $33.95. Don't wait, order today!

Visit our site at www.backwoodsbound.com/ats.html for photos and information on how to order your plaque. Order with our secure on-line ordering system and pay with confidence using Paypal.



"It only takes a little more to go first class."

~~~~~~~~~~~~~~~~~~~
INTERESTING QUOTE: "In times like these, it helps to recall that there have always been times like these." – Paul Harvey

&nbspIf you've seen or heard an interesting or humorous quote send it in and we'll post it next month. Send them to: mail@backwoodsbound.com.



~~~~~~~~~~~~~~~~~~~~~~~~
RECIPE: BAKED QUAIL IN GRAVY

~ 3 quail
~ flour
~ salt and pepper
~ oil
~ 1 can cream of mushroom soup
~ 1 soup can milk
~ 1 tsp garlic salt
~ 1/2 tsp onion powder
~ 1/2 tsp black pepper

* Clean and wash the quail. Split in half down the back.

* In a large cast iron skillet, heat about ¼" oil over medium heat.

* Season the birds with salt and pepper then roll in flour.

* Add to the hot oil and brown on both sides.

* Remove from skillet and set aside. Drain the oil.

* Add the soup, milk, garlic salt, onion powder and pepper to the skillet.

* Stir and heat until warm.

* Place the quail back into the skillet and spoon the gravy over the top.

* Cover with foil and bake at 350 degrees for 1 hour.

* Remove the foil the last 10 or 15 minutes.

* Serve with veggies and hot bread baked at the same time.

* Enjoy.

Many thanks to Rocky J. for sharing this recipe. For more quail recipes to enjoy visit our site at www.backwoodsbound.com/zquail.html.

Remember to send your favorite recipe to mail@backwoodsbound.com. We'll post it on the site or use it in an upcoming issue of The Bullet.



~~~~~~~~~~~~~~~~~~
ARTICLE: THE CONVERSATION by David L. Falconer

  I was 19 years old as I knelt over my first deer, a doe taken on the last day of the hunting season when Oklahoma first started allowing hunters to take a doe with an unfilled tag. Grandpa was there beside me.

  I had pneumonia though I was doing pretty good despite the illness but it had cut my season short. Back then season was only a week long, 9 days in which to tag out and put some venison in the freezer.

 Grandpa had been quail hunting and noticed this one patch of woods near Jingle's Mountain had deer run out of it ahead of his dogs when he hunted this field. We were going to go sit near the fence line and watch it that evening in hopes I took a doe as they left their cover to feed.

  The hunt didn't go that way. We parked the truck and got out, walking less than 50 yards when three does stood up among the bluestem and indian grass almost 200 yards out in the field. I was standing by a tall sassafras tree and I used it to take a rest.

  "The one in the middle," grandpa said softly as I shifted my aim to it and lightly squeezed the trigger. I see legs in the scope and the doe was down from the 100 grain Winchester .243 round.

  The shot had been a little high, but it did the job on the 85 pound doe. I touched the entry hole with my index finger as grandpa spoke, "That was a good shot son."

  "It seemed a long ways," I said.

  "About 200 yards give or take a few steps. I wouldn't have told you to shoot if I hadn't thought you could make it." He pulled his tobacco out and took a chew. "Respect for the animal requires you to take a good shot. You did."

 I never forgot that conversation.

&nbspTwenty-five plus years later I am standing at the back of my friend's pickup truck, his big 7 point buck in the back as he beamed proudly. He was in the military, an Army Ranger and he had been in combat in Iraq and Afghanistan. It was his first deer.

&nbsp He told the story of how the buck had come up the hill and crossed the field in front of him, his range finder showing the deer to be 178 yards away. The young man marveled at how nervous he became as he lined up his crosshairs. He told of overcoming his nerves and settling down to make the shot.

&nbspHis dad said, "You set him up to where he might have had to take a pretty long shot."

&nbspI had seen this young man sight in his gun and shot beside him. We had rattled and worked the valley for deer the day before. I saw in him something I think my grandpa saw in me. I'd seen someone worthy.

&nbspI said to the young man, "I wouldn't have put you up there if I hadn't thought you could make the shot." I looked at the entry wound straight through the heart. "Respect for the animal requires you to take a good shot. You did."

&nbspHis face beamed with pride, probably like my face had when I was 19 years old. I hope he never forgets that conversation.

~~~~~~~~~~~~~~~~~~~~
FISHIN' TIP: Bass become more active in the fall when the water cools off so try using a fast moving lure like a crankbait or spinnerbait. Fish tapering points close to deep water.

Send your tips to: mail@backwoodsbound.com and we'll post them on the site or use them in a future issue of The Bullet.



~~~~~~~~~~~~~~~~~~~~~~
** IT IS OFFICIALLY CHILI TIME! **

&nbsp The weather is finally cooling off and the urge for a pot of that hearty and delicious chili made from Backwoods Bound Chili Seasoning Mix is becoming overwhelming! Its unique blend of herbs and spices makes a great pot of chili everyone loves without the aid of added fillers or MSG!

&nbsp Try it for all of your cooking needs! Backwoods Bound Chili Seasoning Mix makes all sorts of great dishes like jambalaya, enchiladas, stuffed manicotti and lasagna. Also try it as a dry rub or marinade on your beef and deer roasts or steaks. See our collection of great recipes at www.backwoodsbound.com/zchili.html.

&nbsp Enjoy at home or hunting camp in single pot packets or the triple value pack.

&nbsp Order your supply at www.backwoodsbound.com/chili.html.

&nbsp "Not too mild.... Not too hot.... Treat yourself and make a pot!"



~~~~~~~~~~~~~~~~~~~
WHAT'S NEW

&nbsp Orders for our After The Shot Trophy Plaques are starting to pick up. Orders are starting to come in every couple of days as the fall hunting season has begun. Also folks are discovering the trophies from last year's hunts in their garages and figured it's time to do something with them to make room for the ones to come. Go to www.backwoodsbound.com/ats.html for all the information on our line of After The Shot Trophy Plaques. And remember we specialize in custom designs!

&nbsp Need new recipes so dig them out of your junk drawer and send them in! We could use some new ones turtles, frogs, duck, goose, elk, quail, rabbit, buffalo, antelope, alligator, pheasant, and on and on. Send your recipes to mail@backwoodsbound.com. Thanks and we look forward to getting them!

&nbsp And remember to send in your trail camera pictures for the Candid CamShots feature! We'll take anything as long as it's not obscene. Send them as attachments to mail@backwoodsbound.com. See this month's photo at www.backwoodsbound.com/funphotos2.html.




~~~~~~~~~~~~~~~~~~~~~
** ADVERTISE YOUR PRODUCT OR SERVICE HERE! **

Over 4400 potential customers could be reading YOUR ad right now instead of ours!

Place your ad here for $8.00 a month! Discount rates for multiple issues.

For more details, visit our site at: www.backwoodsbound.com/advertise.html. Or e-mail us at: sales@backwoodsbound.com.

Fishing season is fast approaching so place your ad now!
~~~~~~~~~~~~~~~~~~~~~~~
BACKWOODS HEALTH: WATCH THAT BLOOD
&nbsp As society becomes more aware of the risks of exposure to blood-borne pathogens, i.e., HIV, hepatitis, West Nile virus, etc., it's apparent we must be cautious with more than just HUMAN blood. Any blood has the capability of carrying blood-borne pathogens (a virus, microorganism, or other substance that causes disease).
&nbspThat scampering squirrel and regal 10-point buck may be carrying a pathogen that could land you in the hospital, possibly even the morgue! So...do you give up hunting? Do you resign yourself to watching hunting videos in the safety of your own home? Look, you could still get West Nile from the mosquito that just flew in when you were paying the pizza boy!
&nbsp Don't give up the adventures. Just take a few more precautions.
&nbsp Make sure your hands are relatively clean before you even start dressing your game. Soap and running water is the best way to wash, but if that's not available, use sanitizing wipes. They come individually packaged these days and are small and lightweight enough to carry in your pack or pocket.
&nbsp Limit the amount of blood you get on you. Wear gloves. Disposable gloves are inexpensive and can dramatically reduce, even eliminate, contact with blood. You can pick up a disposable pair of field dressing gloves at most sporting goods stores for a couple of bucks a pair. Most come with a pair of shoulder length gloves with some rubber bands to keep them secure on your upper arms. The advantages to these are they keep your arms and/or shirt sleeves free of blood while cleaning the chest cavity of large game.
&nbspFor small game like squirrels, rabbits, and doves just a regular pair of disposable gloves will do. If you regularly wait and clean your game at home, you might invest in a pair of long latex gloves that you can just wash off with soap when you're done and save them for the next time you bring home the bacon. Buy them in the cleaning section of your local supermarket.
&nbspObviously, anytime you get done cleaning game, wash your hands and arms thoroughly. Use an antibacterial soap for best results.
&nbspThe use of waterless sanitizing hand cleaners has become popular in recent years. They claim to kill up to 99% of germs they come in contact with so they are very effective. But even if you use one, wash your hands thoroughly at the first opportunity. Better to be safe than sorry.
&nbspNext thing to keep in mind is to keep the meat clean. Minimize the meats' contact with the animal's hair and intestinal contents. These also are frequently full of pathogens. Lastly, don't contaminate the meat with other germs. There are hazardous pathogens "laying in weight" for a nice warm piece of meat to invade. After field dressing large game, wipe out the inside with a rag, leaves or grass to remove excess blood.
&nbspReduce the growth of bacteria by keeping the carcass cool. Thirty five to forty degrees should inhibit the growth of many pathogens. In addition, trim away any blood-shot, bruised or damaged portions of the carcass because bacterial growth will be more rapid there.
&nbspSanitize your knives, meat coolers, work counters and any other equipment that had contact with the meat or animal parts with a 1 part bleach to 10 parts water solution. Some pathogens can remain dormant on an un-sanitized surface for months just waiting for a new host.
&nbspLastly, cook the meat thoroughly. Cooking to 165 degrees kills most bacteria. This means cooking the meat until it is medium-well to well done.
&nbspDon't miss the adventure; just take care, for the good health of you and your family. Until next time...Maggie Burns.
~~~~~~~~~~~~~~~~~~~~
CANDID CAMSHOTS

&nbsp Dave Holland sent in this picture taken in Nova Scotia while he was there on a hunt.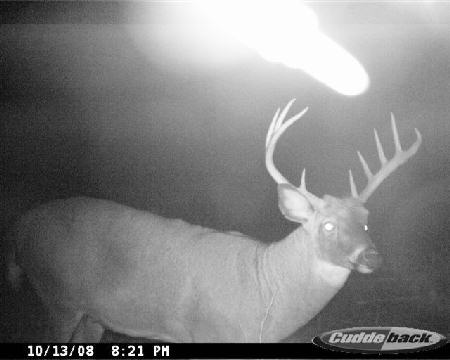 Send your trail camera or outdoor pictures to mail@backwoodsbound.com.



~~~~~~~~~~~~~~~~~~~~~
RECIPE: PRESSURE COOKER SQUIRREL AND GRAVY

~ 4 – 6 squirrels cut into serving pieces
~ salt and pepper
~ 1 1/2 cups water
~ 1 1/2 tbsp. flour
~ 2 tbsp water

* Salt and pepper the squirrel pieces to taste. Place in pressure cooker.

* Add the water.

* Cook for 11 minutes on medium fast. Let cool naturally.

* Remove the meat and keep warm.

* Bring the juice/water to a boil.

* Mix the flour and 2 tbsp water together and stir into the pan.

* Heat and stir until the gravy is thick and bubbly. Adjust seasoning if necessary.

* Serve the squirrel with the gravy poured on top with shoestring fries and a salad on the side.

* Enjoy.

Thanks to Sherry Hoffman for sharing this recipe. For more squirrel recipes to try out visit this page on our site, www.backwoodsbound.com/zside.html.

Send your favorite recipe to mail@backwoodsbound.com and we'll post it on the site or use it in an upcoming issue of The Bullet



~~~~~~~~~~~~~~~~~~
ANSWER TO BACKWOODS TRIVIA: Disney's Snow White and the Seven Dwarfs was the first full-length animated movie. It was released in 1937.

<><=======================><>