Backwoods Bound Bullet Volume 20 - Issue 5
  Welcome to the May 2019 issue of The Bullet. What a great time to be outdoors! Hunters in the northern states finally get their chance at bagging a tom turkey as the spring turkey season opens in the northern states. It has been a long winter and the hunters are antsy to get in the field and do some calling.

The fishing season ramps up this month as the crappie bite continues. The flip-flop weather has them all mixed up but the bite should improve as the weather stabilizes. The bass, catfish and bluegill action gets rolling too. The water is slowing warming and that magical temperature range of the 70 – 74 degrees is fast approaching so make your plans to be on the water. And don't forget the walleye are still going hot.

Enough said. Let's get to it. Enjoy issue number two hundred and twenty three of The Bullet. Until next month, J. E. Burns, Editor-in-chief.



~~~~~~~~~~~~~~~~~~~~~~
In this issue:

~ Backwoods Trivia
~ Recipe: Cajun Bass With Rice
~ Article: Concerned About Potential Nuisance Geese? How to Handle
~ Recipe: Mini Meatloaf Cups
~ Article: The East Creek Killer
~ What's New
~ Backwoods Know-How: How To "Weigh" Your Catch Without Scales
~ Candid CamShots
~ Recipe: Succulent Squirrel
~ Last Minute Stuff



~~~~~~~~~~~~~~~~~~~~
BACKWOODS TRIVIA: Do you know the answer to this question sent in by Robert Phillips?

Can you name the first five inductees into the Baseball Hall of Fame?

Find the answer at the end of this newsletter. Send your trivia questions to mail@backwoodsbound.com.



~~~~~~~~~~~~~~~~~~~~
RECIPE: CAJUN BASS WITH RICE

~ 1 1/2 lbs. bass fillets
~ 1 cup mushrooms, sliced
~ 1/2 cup diced red or green pepper
~ 1/2 cup diced celery
~ 1/2 cup chopped onion
~ 1 - 15 oz. can whole tomatoes with juice
~ 3/4 cup chicken broth
~ 3/4 cup long grain rice
~ 1 tsp. paprika
~ 3/4 tsp. thyme
~ 3/4 tsp. salt
~ 1/2 tsp. red pepper
~ 1/4 tsp. black pepper

* In 3 quart casserole or baking dish, combine the mushrooms, pepper, celery, onion, tomatoes, chicken broth, rice, paprika, thyme, salt, red and black pepper.

* Cover and bake for 25 minutes at 400 degrees.

* Stir the mixture. Place fish on top and spoon a little over the fish.

* Cover and bake for 20 minutes or until rice is tender and fish flakes easily.

* Garnish with fresh parsley and lemon if desired.

* Enjoy!

To see more great fish recipes for to try out this spring, visit our site at www.backwoodsbound.com/zfish.html.

Send in your favorite recipe to mail@backwoodsbound.com and we'll post it on the site or use it in an upcoming issue of The Bullet.



~~~~~~~~~~~~~~~~~~
** KAREN'S KREATIONS **

We're celebrating the Military and America this month by offering 30% OFF ALL Americana and Military themed items this month! Be ready for your Memorial Day celebration or 4th of July party and stock up now!

Have a wedding or birthday coming up in June? Take 20% OFF all other themed items!

Get ready for your upcoming summer events as all wine charms, bag tags, earrings, bookmarks, zipper pulls are on sale this month. And remember that we'll personalize them for free!

These savings end May 31, 2019 so order now!

Visit us at www.karensglabels.com or e-mail us at Karen@karensglabels.com or call 618-257-1365. Be sure to sign up for our newsletter to get news about our monthly specials and new items!

"Because no wine glass should ever be naked!"



~~~~~~~~~~~~~~~~~~~
ARTICLE: CONCERNED ABOUT POTENTIAL NUISANCE GEESE? HOW TO HANDLE
&nbsp The Canada goose is an adaptable bird found everywhere from open farmland and rural reservoirs to suburban neighborhood ponds, office complexes, parks and other developed areas.
&nbsp This ability to thrive in a variety of habitats can sometimes bring an increase in nuisance complaints, according to the Georgia Department of Natural Resources' Wildlife Resources Division.
&nbsp "Geese that have adapted to people, either because they are being fed or because they are so close to humans on a daily basis, can become aggressive," says Greg Balkcom, State Waterfowl Biologist for the Wildlife Resources Division. "When you have resident geese nesting near developed areas like office complexes or apartment buildings, the geese will defend their nest against all intruders, and that may include chasing or charging at people."
&nbspPrevention Methods
&nbsp Harassment: Landowners who don't want geese on their property should first try a variety of harassment techniques, including chemical repellents, Mylar balloons, wire/string barriers, and noise makers. These methods are proven to help reduce goose problems. However, they do require consistency from the property owner and are not always 100% effective. Now is the best time to act because geese are just beginning to select their nesting sites. Scaring the geese away now will reduce problems in the future.
&nbsp Reduce Goose Reproduction: The U.S. Fish and Wildlife Service issued regulations that allow for additional control measures, apart from harassment techniques and traditional hunting, to help address nuisance goose problems. One of those regulations is a permit for reducing goose reproduction through nest and egg destruction OR egg addling or oiling which prevent the eggs from hatching.
&nbsp "A permit can be useful in certain situations—such as a homeowner that may have geese nesting close to home" says Balkcom. "Additionally, it is a way to keep a minimum number of adult geese on the property without the population growing too large through years of unchecked reproduction."
&nbsp The permits are available at the U.S. Fish and Wildlife Service's website (https://epermits.fws.gov/eRCGR/geSI.aspx ). The website also contains useful information on the methods for addling or oiling the eggs or destroying the nests, and when each method may be appropriate.
&nbsp The nesting season for geese is just getting underway, and landowners and land managers who have problems with geese (homeowners, golf course managers, city/county managers, etc.) - especially during the summer molting season - may be able to act now and reduce their nuisance problems later this year.
&nbsp It is important to remember that Canada geese are a protected species under state and federal law. It is illegal to hunt, kill, sell, purchase or possess Canada geese except according to Georgia's migratory bird regulations or other federal permits.
&nbsp For more information, visit the U. S. Fish and Wildlife Service website at https://epermits.fws.gov/eRCGR/geSI.aspx . For a brochure on a variety of methods of dealing with nuisance geese, visit www.georgiawildlife.com/nuisancewildlife . Also visit www.youtube.com/georgiawildlife and search that page for "nuisance" for a Wildlife Resources Division produced video.
&nbsp Thanks to the Georgia Department of Natural Resources for this article. Visit www.georgiawildlife.com for more information about the great outdoor adventures in Georgia.
&nbspWe want to remind everyone to check with their state's DNR for your rules and regulations regarding a nuisance goose problem. Find links to them at www.backwoodsbound.com/stgamedepts.html.
~~~~~~~~~~~~~~~~~~~~~
FUN FACT:&nbsp In 1905, Honus Wagner became the first baseball player to have his signature branded into a Louisville Slugger baseball bat.

Send your Fun Facts to mail@backwoodsbound.com. For more Fun Facts visit www.backwoodsbound.com/funfacts.html.



~~~~~~~~~~~~~~~~~~~~~~
RECOMMEND AND VOTE FOR THE BULLET

Tell a friend about The Bullet. Just go to: www.ezinefinder.com/rec.html?ez=backwo and follow the instructions. It's free and easy!

To vote for The Bullet follow this link: www.ezinefinder.com/backwo-vote.html.html.

Thanks for your help.
 


~~~~~~~~~~~~~~~~~~~~~~
FISHIN' TIP:  When the grass is short like in the spring fish the openings or where the grass makes a point. Use a worm or lizard rigged Carolina style or use a jerk bait fished just above the grass.

Send your tips to: mail@backwoodsbound.com and we'll post them on the site or use them in a future issue of The Bullet.



~~~~~~~~~~~~~~~~~~~~~~
** AFTER THE SHOT TROPHY PLAQUES **

Our handcrafted plaques are made from solid oak not plywood or particle board giving your trophy a solid base to anchor to. Each plaque comes stained with a wall hanger installed. Clear-coating is an available option.

We specialize in unique designs! We've done everything from arrowheads to walleyes to shields to light bulbs, hanging and stand up designs! Just tell us what you have in mind and we'll make it happen!

No matter what type of trophy you want to display, we have a plaque or trophy to fill the need. Contact us at sales@backwoodsbound.com with your ideas.

Don't settle for an ordinary looking plaque! Go one better and order your AFTER THE SHOT Trophy Plaque today. Prices start at $33.95. Don't wait, order today!

Visit our site at www.backwoodsbound.com/ats.html for photos and information on how to order your plaque. Order with our secure on-line ordering system and pay with confidence using Paypal.



"It only takes a little more to go first class."

~~~~~~~~~~~~~~~~~~~
INTERESTING QUOTE: "The reason a dog has so many friends; he wags his tail instead of his tongue." – David Robinson

&nbspIf you've seen or heard an interesting or humorous quote send it in and we'll post it next month. Send them to: mail@backwoodsbound.com.



~~~~~~~~~~~~~~~~~~~~~~~~
RECIPE: MINI MEATLOAF CUPS

~ 2 lbs. deer burger
~ 1 cup chopped onion
~ 1/2 cup chopped green pepper
~ 1 large egg
~ 1/2 cup ketchup
~ 3/4 - 1 cup bread crumbs
~ 1 tsp salt
~ 1/2 tsp pepper
~ ketchup for topping

* In a large bowl, combine all of the ingredients starting with 3/4 cup of bread crumbs. Add more if mixture is too moist.

* Press evenly into the cups on a muffin pan.

* Spread on a coating of ketchup.

* Bake at 375 degrees for 20 – 25 minutes or until cooked through.

* Spread on more ketchup after 10 minutes if desired.

* Remove from oven and let rest a minute or two.

* Serve with your favorite sides and enjoy.

Thanks to Maggie Burns for sharing this recipe. To see more deer recipes to try visit our site at www.backwoodsbound.com/zdeer.html.

Remember to send your favorite recipe to mail@backwoodsbound.com. We'll post it on the site or use it in an upcoming issue of The Bullet.



~~~~~~~~~~~~~~~~~~
ARTICLE: THE EAST CREEK KILLER by Lloyd Barnhart

Locally, it was well known
That the East Creek Killer started out rough.

Years of being rolled and trod upon
Had made the killer more than tough.

Selected by the clever mastermind
For the job to be done,

The Killer was carefully prepared
To lure the victim to the gun.

Slick Yardley teamed with the Killer
To form a seductive & effective team.

Which the master could skillfully use
To put into effect his deadly scheme.

The Killer was to be played like a fiddle,
But not with a bow.

Cuts from acrylic and hickory
Were used to set up the deathblow.

As the lesser accomplice,
Old Yardley did his best.

The Killer did his job, and
The master did the rest.

The victim was identified and encountered;
And the master delivered the blow.

Afterward, there was some gloating;
Then they were again on the go.

The Killer longed to be back in Stephentown
And safely in bed.

Far from that place
Where young Tom lay dead.

  Author's Note:

  One of our favorite fishing streams locally is East Creek in Stephentown, New York. The boys, Justin & Brandon, and I have had some great days fishing there…catching brown, brook and rainbow trout.

  Typically, our days on East Creek are spent not only fishing but also searching the creek bottom for live bait…neat rocks…etc. Often, I would find rocks, mostly shale, that I thought could be turned into a functional turkey call…the rocks/stones being substituted for the formal slate used in commercial turkey calls.

  The Killer was found on the bottom of East Creek. It is a rock quite different from shale, but its thin oval shape convinced me it could become a good turkey call. I have no idea (being geologically challenged) what kind of rock the Killer is. It is light in color, sort of whitish gray and granular in nature, like what one might imagine large grain sandstone to be. I brought it home and the quest for the East Creek Killer turkey call began.

 I first worked the flat surface of the stone with a coarse "flapper" sanding attachment in an electric drill to get rid of all the major surface imperfections (bumps). Then I went at it with an 80 grit emery strip to where I thought it would play. A trial with the stone just held in my hand suggested this could be a great call.

  For a pot to attach the stone to, I chose an old (Maybe antique…50 +/- years old) wood bowl that had contained Yardley shaving soap. I drilled a few holes in the bottom of the bowl and attached the stone to the top without any additional sound board, using silicone adhesive. Tests runs with an old toothbrush for a striker produced great sound; tests with a homemade hickory striker did the same.

  And….The rest is history!

~~~~~~~~~~~~~~~~~~~~
HUNTIN' TIP: For an all-natural mosquito repellent use crushed Wax Myrtle leaves. You just crush them a little in your hand and then rub on. – Steven Harris

Send your tips to: mail@backwoodsbound.com and we'll post them on the site or use them in a future issue of The Bullet.



~~~~~~~~~~~~~~~~~~~~~~
** SPRING FORWARD INTO CHILI TIME! **

&nbsp Spring is officially here but there's still a chill in the air that triggers that urge for a hot bowl of chili to warm you up. Backwoods Bound Chili Seasoning Mix with its unique blend of herbs and spices makes a great pot of chili the family will love with NO added fillers or MSG!

&nbsp Backwoods Bound Chili Seasoning Mix also makes great dishes like tostadas, enchiladas, stuffed peppers, manicotti, Mexican lasagna and a killer jambalaya. We've had customers also use it as a marinade for beef and deer roasts. See our collection of great recipes at www.backwoodsbound.com/zchili.html.

&nbsp Enjoy at home or hunting camp in single pot packets or the triple value pack.

&nbsp Order your supply at www.backwoodsbound.com/chili.html.

&nbsp "Not too mild.... Not too hot.... Treat yourself and make a pot!"



~~~~~~~~~~~~~~~~~~~
WHAT'S NEW

&nbsp We still need new recipes for the spring and summer issues so dig them out of your junk drawer and send them in! All recipes are welcome and we could use some for cooking duck, goose, elk, quail, rabbit, buffalo, antelope, alligator, pheasant, and on and on. Send your recipes to mail@backwoodsbound.com. Thanks and we look forward to getting them!

&nbsp Pictures for the Candid CamShots are in short supply and we need more! Not every picture needs to be of a monster buck. We'll take anything as long as it's not obscene. Send them as attachments to mail@backwoodsbound.com. See this month's photo at www.backwoodsbound.com/funphotos2.html.

&nbsp Things in the shop have slowed down but the boys continue to stay busy. A lot of Wisconsin plaques have been rolling out lately. Go to www.backwoodsbound.com/ats.html for all the information on our line of After The Shot Trophy Plaques. And remember we specialize in custom designs!



~~~~~~~~~~~~~~~~~~~~~
** ADVERTISE YOUR PRODUCT OR SERVICE HERE! **

Over 4400 potential customers could be reading YOUR ad right now instead of ours!

Place your ad here for $8.00 a month! Discount rates for multiple issues.

For more details, visit our site at: www.backwoodsbound.com/advertise.html. Or e-mail us at: sales@backwoodsbound.com.

Fishing season is fast approaching so place your ad now!
~~~~~~~~~~~~~~~~~~~~~~~
BACKWOODS KNOW-HOW: HOW TO "WEIGH" YOUR CATCH WITHOUT SCALES by Jerry Ison

  We're not talking about the fish's scales. They have 'em. Well, maybe not those catfish, but ...oh never mind

  It's simple, but you will need a measuring device. A tape or ruler. In a pinch, a dollar bill will do. Sorta. The bill is six inches long, so you can get down to 1.5 inches by folding it twice, etc.

  Anyways, measure the length from tip of nose to tip of tail with tail fin in normal position. (don't flatten vertically)

  Then measure the girth at the thickest place on the midsection.

  Okay, if it's a fat bodied fish like bass or salmon, multiply the length by the girth squared then divide that number by 800.

  Example: 20 inch length by a 10 inch girth divided by 800 is 20 X 10 x 10 = 2000 /800 = 2.5 lbs.

  For slender fish like pike, musky or trout use the same formula but divide by 900.

  Example: 35 inch length X 15 X 15 = 8.75 lbs.

  For cat fish, depending on the species, it's not so accurate. Bullheads with that fat little bulging gut will throw you way off towards the high side. Come to think of it, maybe that's not such a bad thing. And, I'm certain that many using this formula to figure catfish weights will go with the higher estimate. Maybe even without actually measuring!

 If you're gonna release these fish, don't do the measuring thing. That'll keep 'em out of the water too long. In that case use that last catfish method of "determining" their weight.

~~~~~~~~~~~~~~~~~~~~
CANDID CAMSHOTS

&nbsp Tim Kish's camera caught this young Illinois buck strolling by while licking his nose to improve his scent catching ability while trailing hot does.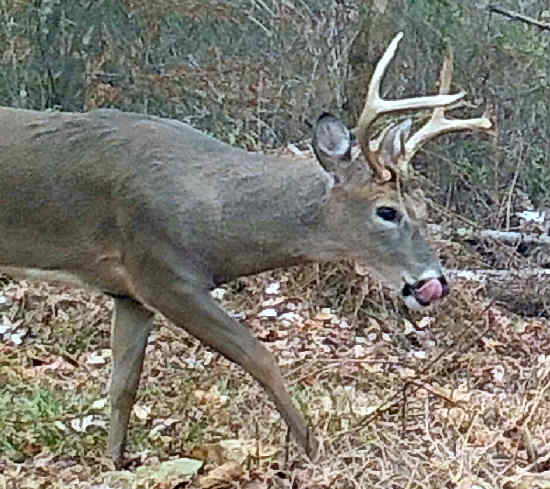 Send your trail camera or outdoor pictures to mail@backwoodsbound.com.



~~~~~~~~~~~~~~~~~~~~~
RECIPE: SUCCULENT SQUIRREL

~ 2 squirrels, cleaned and dressed
~ seasoning salt
~ pepper
~ flour
~ bacon grease

* Cut the squirrels into 5 pieces each. Season liberally with seasoning salt and pepper.

* Heat a quarter inch of bacon grease in a 10" or 12" cast iron skillet over medium heat.

* Preheat oven to 300 degrees.

* Roll the squirrel in some flour and add to the hot grease.

* Fry until just browned on all sides.

* Remove from heat and add a half inch of water and 6 ice cubes.

* Cover tightly with foil and place in the oven.

* Bake for 3 hours at 300 degrees.

* Remove from the oven and carefully remove the meat. Set aside and keep warm.

* Set pan on the stove and use whole milk and more flour to make gravy.

* Serve with mashed potatoes and hot biscuits. Better throw in some vegetables too.

* Enjoy!

Our thanks to Shorty Hoskins for sharing this recipe. To see more delicious squirrel recipes go to www.backwoodsbound.com/zsquir.html.

Send your favorite recipe to mail@backwoodsbound.com and we'll post it on the site or use it in an upcoming issue of The Bullet



~~~~~~~~~~~~~~~~~~
ANSWER TO BACKWOODS TRIVIA:Ty Cobb, Walter Johnson, Christy Mathewson, Babe Ruth and Honus Wagner were the first inductees in 1936.

<><=======================><>
LAST MINUTE STUFF

&nbsp Have you noticed the past few years while traveling on the interstate highways how long it takes one semi-truck to pass another? I think I have the answer.

&nbspWhile visiting with my wife's cousin recently while attending a funeral I found out he was a truck driver and the conversation turned to things he hauls, his equipment and things he sees while on the road.

&nbsp During the conversation Chuck enlightened me to several things about driving over-the-road trucks and one thing really stood out.

&nbspWith all of the electronics in today's cars, trucks, etc. the trucking companies are restricting (by government regulation?) how fast their trucks can go. They can program the truck to only go so fast and most companies are setting that limit at 65 – 68 miles per hour. No matter how much the "pedal is to the metal' the truck will only go as fast as it is programed!

&nbspThat's the reason why it looks like one truck is just creeping by the other while passing because it is. It takes a while to pass someone going 65 mph when all you can do is 68 mph. Throw in a hill and it takes even longer!

&nbsp According to Chuck, this restriction is for most company owned rigs and most independent trucks aren't subjected to this restriction (at least not yet.). That's why on occasion a truck whizzes past you like the old days.

&nbsp So the next time you're on the road and find yourself in a line of traffic behind a big-rig that seems to be crawling past another rig you know why you can't get to grandma's house ten minutes faster. The driver is doing all he or she can do. They're not purposely trying to hold you up. They want to get to their destination as quickly as possible too but they're bound by today's technology and the man holding them back!

&nbsp So try to stay relaxed on the road and give 'em a break. They're just doing their jobs the best they can. The country would come to a standstill without them. God bless the truckers! Just my opinion. I could be wrong. – James Burns

&nbsp One last thought; when will the government set restrictions on everyone's cars and trucks? Hmmm…..



~~~~~~~~~~~~~~~~~~~~~